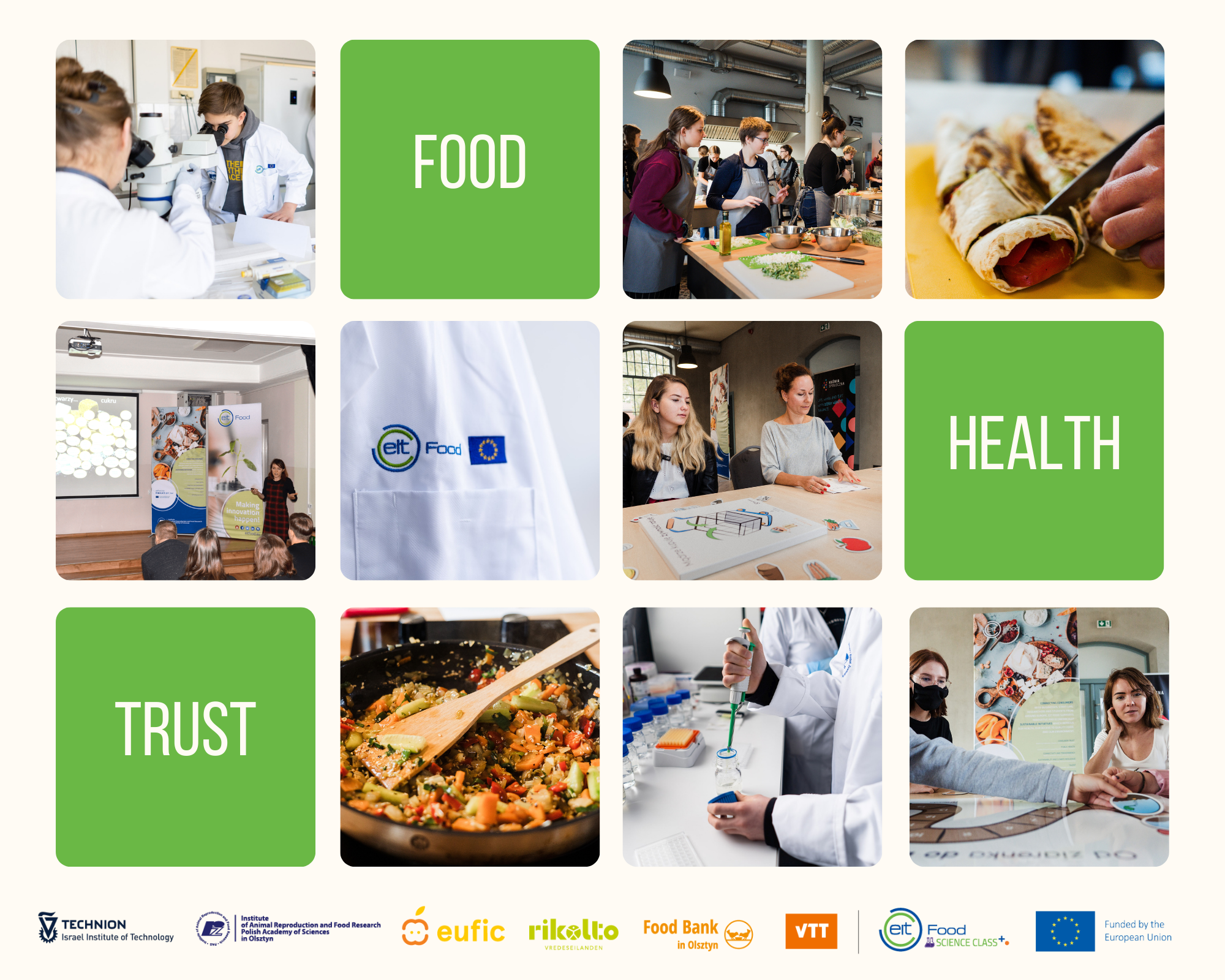 The Institute of Animal Reproduction and Food Research of the Polish Academy of Sciences in Olsztyn is implementing the international project #FoodScienceClass, powered by EIT Food. A total number of 300 students from Israel, Poland, Belgium and Finland take part in the second edition of the project. Poland will be represented by two classes from the XII High School in Olsztyn, named after Maria and George Dietrich, and two classes from the Primary School in Dywity, named after Maria Zientara-Malewska.
Students will take part in a series of activities that will familiarize them with topics of production, processing and food safety, as well as responsible consumer attitudes. As part of the project, students will have a unique opportunity to play the role of young researchers and – under the guidance of mentors, scientists of the IARFR PAS in Olsztyn – examine the eating habits of their peers. However, EIT Food #FoodScienceClass is not just a theory! Educational workshops on rational food management and reducing food waste are planned for September, which will take place at the Social Forge of the Food Bank in Olsztyn, one of the project partners. Students will also get to know the Institute laboratories and meet with a representative of a regional food company. The culmination of educational activities will be the development and implementation of an educational campaign, as well as the exchange of experiences and materials with other partner classes. All activities are planned taking into account the current possibilities – some activities take place online, some stationary, respecting the safety rules.
The overriding goal of the EIT Food #FoodScienceClass project is to arouse students' curiosity about food, a topic that would seem very trivial, but the WHO data leaves no illusions. In 2019, we already had over 38 million overweight or obese children in Europe, in the group under the age of 5. Together with scientists, we are trying to show that it is worth knowing more about what is on our plate, as well as making conscious dietary choices at the stage of completing the shopping cart – says Justyna Banasiak, EIT Food #FoodScienceClass coordinator on behalf of the Institute.
The #FoodScienceClass project is funded by EIT Food, which works towards a sustainable, healthy and trustworthy food system. The project partners are: TECHNION (Israel), IARFR PAS in Olsztyn, Food Bank in Olsztyn, EUFIC (Belgium), VTT (Finland) and Rikolto (Belgium).
For more information, please contact the EIT Food #FoodScienceClass coordinator on behalf of the Institute, Justyna Banasiak (j.banasiak@pan.olsztyn.pl).